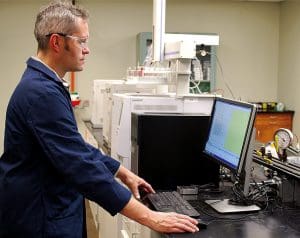 InChem has invested in significant laboratory upgrades for purposes of focused efforts on customer responsiveness and satisfaction. Its Quality Control (QC) laboratory at its Rock Hill plant has expanded state-of-the-art equipment and new personnel. The lab, located on the upper floor of the West Plant building, also serves QC needs of the nearby Charlotte plant.
"Our purpose is to ensure that the quality of final products and incoming raw materials is in compliance with ISO 9001 standards," said lab manager Daniel Vega. Key equipment acquisitions include:
A new Headspace GC, a gas chromatograph with greater capabilities to analyze a sample by incubating it, letting liquid evaporate into the headspace. This allows for lower limits of detection, especially helpful with highly volatile compounds.
A new Karl Fischer Metrotron, which provides moisture analysis and water content analysis.
Existing equipment moved into the new lab includes:
Two Agilent GC Flame Ionization Detectors
Two high-performance liquid chromatographs
2 Brookfield viscometers
Drying ovens
Leco sulfur analysis
Capability to do potentiometric titrations (wet chemistry)
Soften point or melt point instrumentation
A halogen moisture analyzer
Perkin Elmer infrared spectroscopy
Color Quest instrument to analyze color, haze, turbidity and other factors
A Differential Scanning Colorimetry device to measure the melt point or transition glass temperature of different polymers
"All this equipment allows us to standardize production and products day to day," Vega said. "We consistently have new customers coming in and have to do R&D to verify methods and check repeatability. Often the customer gives us a method to produce the product, but we have to optimize it in our lab. During the past year we have discovered better methods of doing things."
Steve Nichols, InChem's technical director, has a Ph.D. in chemistry and serves as the interface between the customer and the QC lab, both from a process standpoint and testing from a QC standpoint.
"We've updated our instrumentation and got experienced people so we can help our customer and InChem understand  processing and make continuous improvements," Nichols said. "We don't have to send much out any more. We can get samples evaluated promptly in our lab. We have more instrument time available to turn samples promptly to get faster feedback for in-process work. This minimizes cycle time and improves product quality as we develop new and better processes."
Nichols said that since InChem sold its Phenoxy division, the company is focused now on toll manufacturing, involving managed chemical reactions of liquids and solids. "Because of the diversity of our customers today, we have a more diverse product mix that require different kinds of testing. Our lab staff is running different things all the time."
"What are we looking for? We always want to make sure that we have an instrument that is in control, so we run standard tests to verify performance and make any calibrations needed," he explained. "We make sure the results we're getting accurately reflect the process based on reliable measurements and data.
"The QC lab is like umpires," Nichols said. "The most important thing is getting the call right. Operations may or may not like the call, but it's important that the numbers are correct. We must be objective.
"When we run a new process, we try to get the lab involved early. We look at the customer's lab results and let them see our results. We make sure statistically that our results reflect their results, and if not statistically equivalent, why or why not? Do we both agree the product is in spec? What do we need to do if the data are not the same? This ensures we are on the same page and talking the same language as our customers."
The result of this enhanced capability is that "customers find we are more focused and our turnaround time is better than them doing it in-house," Nichols said. "We provide localized help versus the samples having to go overseas sometimes. The net result of all this is, we instill greater confidence in our customers. From both an operations and inspection standpoint, they see we can meet their needs."
To learn more about how InChem's Quality Control capabilities can help meet your needs for high-quality toll manufacturing, contact Nichols at 1-800-331-7721 or use our online contact form.