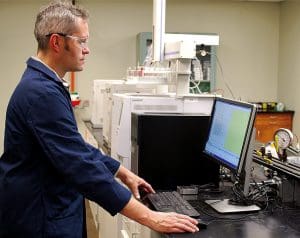 InChem has invested in significant laboratory upgrades for purposes of focused efforts on customer responsiveness and satisfaction. Its Quality Control (QC) laboratory at its Rock Hill plant has expanded state-of-the-art equipment and new personnel. The lab, located on the upper floor of the West Plant building, also serves QC needs of the nearby Charlotte plant.
"Our purpose is to ensure that the quality of final products and incoming raw materials is in compliance with ISO 9001 standards," said lab manager Daniel Vega. Key equipment acquisitions include:
A new Headspace GC, a gas chromatograph with greater capabilities to analyze a sample by incubating it, letting liquid evaporate into the headspace. This allows for lower limits of detection, especially helpful with highly volatile compounds.
A new Karl Fischer Metrotron, which provides moisture analysis and water content analysis.